Audi is an automobile manufacturer from Germany. The company is known for producing and marketing, stylishly designed, superior engineered cars. History and Early Years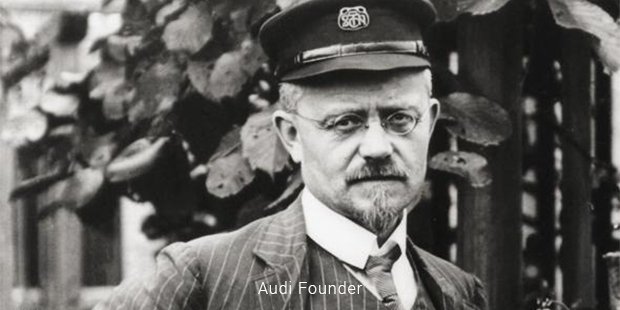 Audi's history dates back to the turn of the 20th century. August Horch, a German engineer and his team of 15 workers started the company in the name of A. HORCH and Cie in 1899.
By 1901, they were rolling out their first car. Due to some unforeseen circumstances, August Horch left the company. Horch dreamed of manufacturing cars in his name. But he had already started and left a company in the name of Horch. So when he launched another company, he used the name Audi which is Horch as in 'Hear'  in Latin and founded  Audi Automobilwerke GmbH Zwickau.
Though Horch set up the company in 1909, the brand Audi was officially registered in the year 1910. Before First World War, this automobile company manufactured the best cars of the period. During the war, the company was forced to manufacture vehicles for war. After the First World War, the company incurred heavy losses. Horch moved away from the company in 1920. The management tried to pull the company through hard times between 1927 and 1931 but later decided to merge with other companies to survive.
Hudson Automotive in San Mateo-A Premier Audi Repair & Service Center
Hudson Automotive is your local San Mateo County Auto Repair Specialist located in San Mateo, CA specializing in Audi, BMW, Mercedes-Benz, Porches and Volkswagon automobiles. We utilize state of the equipment and software diagnostic tools, trained and certified technicians.

Owner, Sean Hudson opened in 1976 and has been serving San Mateo area customers ever since. Numerous original customers, and their children, carry on bringing their cars to us because they value the personal interest we offer over unfriendly dealership service.
We provide a more personalized service than a dealership. We carry out every repair and service a dealership does but at much lower cost. We have lower overhead, so we are able to buy the best original manufacturers' parts at the best price and pass the savings to our costumers. Each of our technicians is highly trained and experienced. Our technically advanced equipment means you get an accurate diagnosis and repair and fast service. Call us for an appointment today: 650-344-4800